Enriching the Experience
---
Anthony delights in sharing his knowledge and experience in an engaging and entertaining way. Whether it's during excursions, an informal drink at the bar, hosting a dinner event, presenting a lecture, or giving a sculpting demonstration, he always gets great satisfaction from meeting new people and enhancing their travel experience.
---
---
'Anthony is by far the most accomplished and enjoyable lecturer and naturalist guide that we have encountered over the years. His lectures on bronze sculpting, photography and the natural sciences were outstanding. In one instance, he used biostatistical calculations to estimate the number of humpbacks in the bay at Dutch Harbour and incorporated that into his presentation that evening. He clearly has a passion for and extensive knowledge of a broad range of disciplines and his presentations are clear and concise. He is a true Renaissance man and we would happily select a cruise knowing that we could sail with him again.'
Linda Ujihara, Silversea Expedition Cruise, Alaska voyage
---
'I have been on two Silversea Expedition Cruises on which Anthony Smith has been a Lecturer. His style of presentation is excellent, well-paced and very clear. His use of graphic material is special. He often uses his own photographic material. I think if you are looking for a well presented lecturer, he would make an excellent choice.'
Dr Bruce J Morris, University of Sydney
---
'[Your Lecture] was a truly inspirational and heroic performance. You are most fortunate to 'have the passion' for your subject in spades, which makes all the difference. Many congratulations indeed and thank you for going to so much trouble to make it such a very special evening for all of us lucky enough to be present!'
David Fellowes, Director of the Winchester College Society
---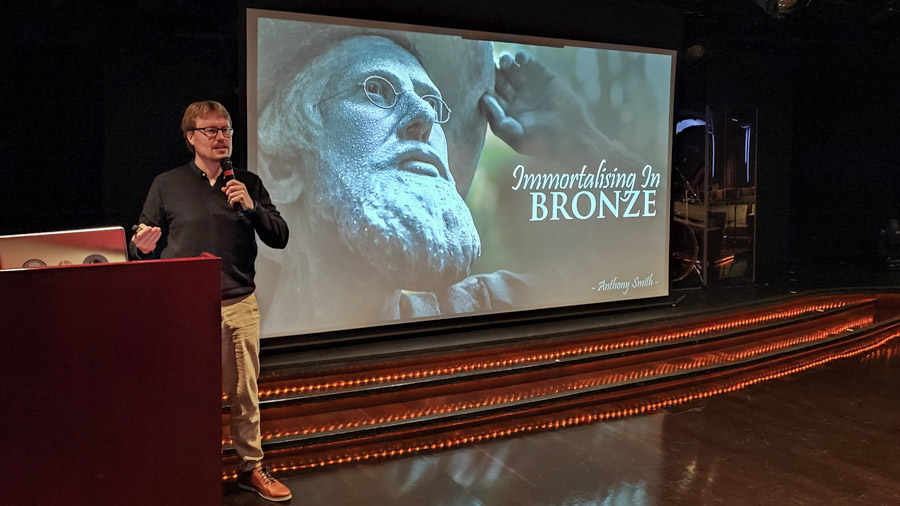 ---
'Anthony is an excellent speaker, in addition to being an excellent photographer and people person, and his knowledge and enthusiasm for his subjects–photography, wildlife, Antarctica, sculpture and travel–came through loud and clear to all of us. His presence on a future cruise would be a very strong incentive for us to sign up and go along.'
Patricia L. Sullivan, Abercrombie & Kent, Antarctic voyage
---
'We had the opportunity to attend Anthony's "Seabourn Conversations" series in March/April 2022 and he is one of the most engaging conversationalists we have had the pleasure to spend time with. As well as being a highly talented Bronze Sculptor, Anthony has the ability to make his lecture conversations fun, insightful and personal as well as imparting a great deal of knowledge. In addition to his core subject, Anthony also presented lectures on a couple of other topics at short notice which were equally enjoyable. I highly recommend him as both a presenter and a dinner companion!'
Caroline & Michael Foulger, Seabourn Ovation, Atlantic crossing
---
'Anthony's talk on biodiversity on the Silver Explorer was absorbing, thought provoking and memorable. He showed a deliciously wry sense of humour when talking on photography. When guiding a zodiac he was informative while maintaining a steady hand with regard both to the zodiac and those on board who wanted to move around.'
Michael & Vashti Waterhouse, Silversea Expedition Cruise, Chilean Fjords voyage
---
'Your photographic tips were phenomenal and have revolutionised my picture taking. Thank you. You were one of the major highlights of the trip with your talks on sculpture and photography.'
Jean Rawden, Poseidon Expeditions, East Greenland voyage
---
'Your workshops were very engaging and rewarding, and I know that everyone who participated (no matter what their previous level of experience) gained a huge amount from them and wished the series had been extended. Your professionalism demonstrated a great depth of knowledge and skill, and the way in which you shared your own inspiring images displayed a humility for your own ability which was very refreshing!'
---
Sharing great experiences in the Russian Far East.